ACADEMIC EXPERIENCE
Dr. Sherwood returned to the University of North Carolina at Chapel Hill School of Nursing (M.S.N. 1970) in 2005 for a leadership role overseeing academic programs including baccalaureate, Master's and Ph.D. Her responsibilities include contract negotiation with more than 500 clinical agencies for student clinical placements. She has developed and expanded global health initiatives, including the Visiting International Scholar program and student and faculty global health experiences with support from a stipend program.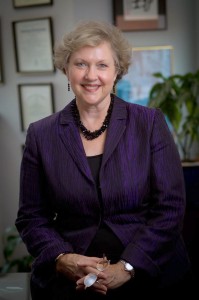 Associate Dean for Academic Affairs and Professor

Global Health Initiatives Administrator
QSEN, Quality and Safety Education for Nurses, Co-Investigator
Capacity Kenya Project, Funzo Kenya, Intrahealth, Nurse Faculty Team Leader
Adjunct Faculty, University of Illinois at Chicago Medical School
She retired from the University of North Carolina the end of the 2017-2018 academic year, assuming the title she currently holds as Professor Emeritus.
With more than two decades of distinguished service at The University of Texas Health Science Center at Houston School of Nursing Houston, Texas, Sherwood progressed from part-time Instructor to Executive Associate Dean and Tenured Professor holding multiple administrative and leadership positions. She led the school's faculty practice plan, negotiating $500,000 USD annually in faculty practice contracts; and directed multiple innovative outreach programs in underserved regions.
Professor and Executive Associate Dean
Associate Dean for Practice and Outreach
Director, Rio Grande Valley Master's Outreach Program
Director, Rio Grande Valley Continuing Education Project
Director of Continuing Education
CLINICAL APPOINTMENTS
The Methodist Hospital, Houston, Texas, 1998-2004. Co-Director, Center for Professional Excellence (CPE): Professional resource center leading academic affiliations, research, education, global consulting, nursing foundation, special events, and nursing development.
Staff Nurse positions in Douglas, GA, Durham, NC and Bryan, TX spanning 1966-1975
ADJUNCT/VISITING FACULTY APPOINTMENTS 1990-2005:
UT Houston McGovern Center for Health, Humanities and the Human Spirit
Baylor College of Medicine, Department of Medicine, Houston, Texas
The University of Texas-Pan American, Edinburg, Texas
The Institute for Religion and Health, Texas Medical Center, Houston, Texas
Universidad Autonoma de Tamaulipas, Department of Nursing, Tampico, Mexico
Soochow University, Suzhou, China, Department of Nursing
Peking Union Medical College, Department of Nursing, Beijing, China
Xi'An Medical University, Honorary Dean Department of Nursing, China, 1993